IIAF
Up to 1920 (1299) there was no use of air power in the armed forces of Iran. By then Reza Pahlavi became commander in chief of the Armed Forces, and realized the importance of air power in future conflicts.
In 1921 (1300) the Iranian ambassador in Washington DC requested to purchase aircrafts from the U.S. The U.S. officials denied the Iranian request based on the disarmament treaty of World War I. Therefore Iran had to turn to European countries, such as Germany, Russia and France.
The first country to acknowledge Iran's request was Germany, which agreed to sell some JUNKERS aircraft ( JU-F13).
Since there were no provisions in the budget for purchase of aircraft, H.I.M. Reza Shah Pahlavi (At this time Prime Minister) asked the Iranian people to raise needed funds to purchase these aircraft.
Following this request, the people of Gilan and Mazanderan province raised the funds to purchase 2 Junkers F-13 from Germany.
The contract was signed, the aircrafts were delivered, and were called "Gilan" and "Mazanderan"****.
Following Germany, the Russia agreed to sell aircraft to Iran. Iran purchased DH-4 and DH-9 (built in Russia, called R-1 and R-5) and Avro-504, from Russia (the Russians called it AVROSHKA).These aircraft were delivered in 1923 (1302).
At the same time France also agreed to sell aircraft to Iran so IIAF purchased Spad-42, Potez-8, Breguet-14, and Breguet-19 from France.
These Aircraft were delivered between 1923 (1302) and 1925 (1304).
On Feb. 25, 1925 (5 Esfand-1304) the first Iranian pilot Colonel Ahmad Khan Nakhjavan, who was trained in France with Colonel Yadolah Azam Zangeneh (Mrs. Farah Jahanbani's Father and General Nader Jahanbani's Father in Law ) with only 200 Hours of flight experience, flew a Breguet-19 with the Iranian Flag and Insignia on it from France to Iran's Ghale-Morghi Airport where Reza Khan Mirpanj (Later Reza Shah The Great) personally greeted them. Thus on this date the first Iranian Air Force Aircraft piloted by Iranian Pilot crossed international borders and entered the Iranian Airspace*****.
Up to this date the Iranian pilots were being trained as follow:
a) a group sent to France for pilot training.
b) another group sent to russia for pilot training.
c) in Iran by a German Instructor pilot by the name of Schefer.
Purchasing the aircraft was the easy part. Training the pilots to fly them, the ground crew to maintain and repair them, and building the airports were the hardest parts and required time. Also during this period, the Air Force was changed from a small office in the Army to a separate department and was called Imperial Iranian Air Force.
Colonel Ahmad Khan Nakhjavan became the first Air Force Commander.
In 1924 (1303) the first group of student pilots and Mechanics were sent to Russia and France for training. Later In 1929 (1308) Iranian Air Force had a total of 15 pilots of which 6 had graduated from Easter flying school (France) and 9 from Sebastopol flying school (Russia). At this time the IIAF had total of 33 aircraft of 9 different models.
During the next 15 Years (up to World War II) over 400 Aircrafts of 18 different models and from 4 Countries were in the IIAF Service. The 8 air bases built at this time included pilot training and instructor pilot schools plus a maintenance training school. An Aircraft factory "Shahbaz" was also established and would build 3 different types of aircraft.
At the beginning of the WWII, Iran remained a neutral country. However, in August 23, 1941 (3 Shahrivar, 1320), during the heat of the WWII Iranian neutrality was broken, and Iran was attacked from the air and the sea. British from the South, and the Russians from the North.
( was Called Operation "Y" under the command of Lt. Gen. E.P.Quinan).
The young Iranian Air Force, which had just begun to build its foundation, was in no condition to withstand such a heavy attack. The Allied Forces of Britain and Russia took control of two Iranian air bases in Tehran.
The British took over Dooshan Tappeh IIAF complex including Shahbaz factories and the Russians took over control of Ghale Morghi Air Base.
The invaders closed the IIAF Technical Officers Academy, the pilot training school, the maintenance school, and six air bases in the country. Personnel were dismissed from service and most of the aircraft were dismantled ( Some Air Force personnel witnessed that our Aircrafts were cut into half by British troops to make them useless).
From 15 Curtiss H75 A-9 Hawk Aircrafts that Iran had purchased from USA and they were delivered on May 1941, 10 were ready to fly (SN 15252 to 15261 and other 5 were still in boxes. The British also took all these Aircraft and shipped them to India!!!
The young Air Force was reduced to practically nothing! Iranian Air Force that had been built by H.I.M. Reza Shah The Great had been all but destroyed by the British and Russian forces during their occupation from 1941 to 1946. Reza Shah, the founder of the Air Force was forced to resign, as part of the cease-fire condition imposed by the British. Eventually, his son, Mohammad Reza Pahlavi became the Shah of Iran.
When the war ended the British left Iran, but the Russians refused to leave and remained in control of Northern Iran.
In 1946 (21 Azar, 1325), encouraged by the political pressure applied by American Government, the Army and Air Force, under the direct command of the young Mohammad Reza Shah ((( Only 40 Days After receiving his Pilot Certificate, and having less than 100 flying hours, Shah of Iran made four Reconnaissance Flight over enemy territory, this was the first time that the leader of a country would actually participate and fly over war zone.))) drove the Red Russians and the "puppet" government of "Pishehwari" out of Iran.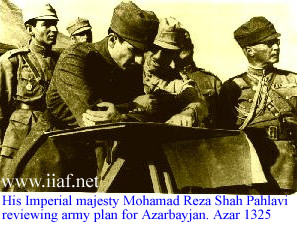 The economy of Iran was weakened as a result of this occupation and the war. The country was experiencing severe recession, unemployment, and disrepair during Russia's occupation. Depressed crude oil prices (less than $1.00 per barrel) imposed by the large Western oil companies prevented Iran from being able to purchase arms and re-equip the Armed forces.
The country struggled for ten years!But these obstacles would not prevent the Air Force to get back to course of progress.
In 1946 (1325) the Pilot Training College reopened its doors and trained 11 pilots which all of them graduated on 1947 (1326) and received their certificate from Shah himself.
In 1947 (1326 ) the Aircraft mechanic school and Maintenance college started again by accepting 90 cadets.
In 1951 (1330) the first European officer (Col. P. Shawnen, French Air Attaché) attended the IIAF pilot training college and received his certificate after his graduation.
Finally, the United States decided to help equip the Iranian Air Force The Cold War between the East and the West after the WWII was the main reason for this decision. The Western allies (mainly the United States) wanted to build a cushion between the Russians and the warm waters of the Persian Gulf—gateway to the wealth of the Middle East oil fields.
The first priority, however was to build strong, defensive armed forces in Iran and Turkey. For that reason USA equiped IIAF with P-47's, RT/33 (reconnaissance aircraft), F-84's, and F-86's as part of their Military Assistance Program (MAP).
The British also stepped in by providing the IIAF with "Anson" and "Hurricane" aircraft and certain Radars. However, the British share did not come for free; it stemmed from compensations that they had to make for destroying the IIAF aircraft fleet, The Imperial Iranian Naval fleet, and utilization of Shahbaz factories which they used to support their own aircraft fleet during WWII while occupying Iran. Of course, it must also be mentioned that the British had "windfall" access to the extended Iranian Oil fields, Abadan Oil Refinery (the largest in the world at the time) and the Iranian ports in the Persian Gulf region that were part and parcel of British Imperialism, which the Iranians had to contend with. Other British motives to assist Iran at the time were linked with the Cold War, military pact with Iran and her neighboring countries("Baghdad Pact" later on "Cento Pact") and the creation of a permanent market for their weapons in Iran.
More information to be posted…
1931 (1310) in a 3 Month period, of the 34 operational aircraft, 8 crashed due to the variety of aircraft built by different countries. This reduced the whole Air Force to only 26 aircraft and 15 Air Crews (Pilots & Navigators).
1959 (5-Azar-1338) The 2nd Fighter Base (Vahdati) became operational.
1961 (26 Dey 1341) The First Out of Country Mission (Congo-Africa)
1963 (25-Mehr-1342) The 3rd. Fighter Base (Shahrokhi) became operational. Also the first Helicopter becomes operational in IIAF.
1965 February (Monday 12 Bahman 1343) the first Four F-5A Freedom fighters were delivered to IIAF.
1968 The 4Th. Tactical Fighter Base in Shiraz Starts Operation.
1971 The 5Th. Tactical Fighter Base in Tabriz Starts Operation.
1971 The 6Th. Tactical Fighter Base in Busheher Starts Operation.
1973 The 7Th. Tactical Fighter Base in Chah-Bahar Starts Operation.
1975 The 8Th. Tactical Fighter Base in Isfahan Starts Operation.
Contract was approved for purchase of 8 AWACS, 3 ship to be delivered in 1979. In early days of The Revolution, Islamic regime rushed to cancel this order. As the result these AWACS were sold to Saudi Arabia, later on during the war 80-88 the same AWACS were used against Iran.
1978 The 9Th. Tactical Fighter Base in Omidieh Starts Operation
1979 300 F-16A Falcon were ordered and paid for, of which 140 were built and Ready to deliver. (In 1979 the Islamic regime cancelled the order!!!!)
In the period between 1965 to 1979 more Than 7 Air Bases, More than 10 Radar facility were Built and 750 New Air Crafts were received and maintained operational ready, more than 80,000 personal were trained in Iran, USA, England, Germany,……. .This Unbelievable achievements was made possible only by the extra hard work and devotion of each and every member of the IIAF. History will always remember those Officers, Homafars, and enlisted men and women of the Imperial Iranian Air Force.
Job Well Done.
AIRCRAFT HISTORY
Note: Junkers(JU F-13)The World's first ALL-METAL Low Wing Transport monoplane. This was the first Aircraft purchased by Iran in 1922 (1301).
2 Crews and 4 Passengers with Max Speed of 110 MPH and
Power by 185 HP BMW 6 cylinder engine.
Service ceiling 13000 Ft. Endurance 5 Hours.
* DH-4, DH-9 and Avro 504 was produced by Russian Dux factory.
** JU W-33 is the first aircraft to cross the North Atlantic from East to West.
*** Before WWII this aircraft were produced in Iran by "SHAHBAZ" factory.
**** At that time it was not customary for Aircrafts to have Numbers, each Aircraft had a name, usually name of a bird.
***** Since Iran had no pilots for International flights, the Aircrafts had to be delivered to Iran.
Imperial Iranian Air Force Commanders
1923 (1302) Mr. Reza Mizani In Charge of Air Corp. Section in the Army.
1924 (11-Tir-1303) Col. Ahmad Khan Nakhjavan In Charge of Air Corp. Section in War Dept.
1926 (1-Farvrdin-1307) Col. Nakhjavan was promoted to Brig. General and became the first General Pilot.
1930 (26-Mordad-1309) Maj. Ahmad Mirza Khosravani Temporary In Charge of Air Corp. Section.
1932 (5-Mordad-1310) Gen. Sadegh Khan Koopal In Charge of Air Force Section in War Dept.
1933 (26-Azar-1311) Gen. Ahmad Khan Nakhjavan In Charge of Air Force Section in War Dept.
As of 1933 (7-Aban-1311) Air Force Section in War Dept. Officially Became Air Force Command.
1935 (27-Aban-1314) Air Force Command was changed to Imperial Iranian Air Force.
1936 (30-Azar-1315) Col. Ahmad Khosravani (Gen. In 1938).
1941 (3-Shahrivar 1320 ) WWII England & Russia attacked Iran and all Air Force operation halted.
From 1941 to 1948 (1320-1327)Due to World War II Air Force was not in normal operation this instability resulted in frequent change of commanders. At the time Gen. Majid Firooz (None Air Force officer) was in charge of Air Force.
1942 (5-Shahrivar-1321) Gen. Mohammad Nakhjavan (None Air Force).
(21-Azar-1321 ) Col. Sharafaldin Ghahremani. Later killed as a passenger in a crash.
1943 (24-Ordibehesht-1322) Gen. Ahmad Khan Nakhjavan.
(13-Tir-1322 ) Col. Mir Mohammad Mohanna.
(23-Shahrivar-1322 ) Gen. Mohammad Hossein Firooz
1944 (6- Tir-1323 ) Gen. Ahmad Khan Nakhjavan (at this time entire Air Force was 493 personnel which included 80 Pilots )
(13-Aban-1323 ) Gen. Ahmad Khosravani
1945 (25-Farvardin-1325) Gen. Mohammad Hossein Amidi ( None Air Force )
1947 (16-Shahrivar-1326) Col. Hedayat Gilanshah.
(10-Farvardin-1327 ) Gen. Mahammad Mohanna.
1948 (30-Dey-1327) Col. Mehdi Sepah Pour.
1950 (3-Aban-1329) Gen. Noori Alaee.
1951 (8-Mordad-1330) Gen. Mehdi Sepah Pour.
(16-Bahman-1330) Gen. Hedayat Gilanshah.
1952 (12-Esfand-1331 ) Gen. Mohammad Moeini.
1953 (29-Esfand-1332 ) Gen. Hedayat Gilanshah.
1958 (15-Meher-1337 ) Gen. Mohammad Khatami. ( Killed in Kite Accident).
1975 (21-Shahrivar-1354) Gen. Fazayel Tadayoun . (Killed in Helicopter Crash).
1976-1979 (?-?-1355) Gen. Amir Hossain Rabii. (Executed during Islamic revolution).